Dreadball™
Amera are proud to produce the Dreadball Stadium. We worked alongside Mantic Games to produce this fantastic stadium which will enhance every Dreadball game. Immerse yourself in the gameplay set inside our futuristic arena.
Please note the stadium is supplied in white unpainted. Image courtesy of Mantic Games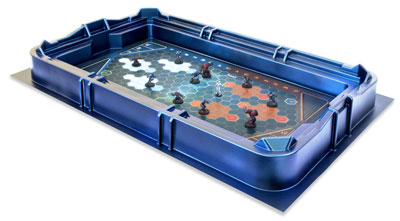 Dreadball is Mantic Games' futuristic sports game, pitting two teams against each other in a fast and fun tactical board game. You can find out more about the game on the Mantic Games site. The stadium is designed to accept the game board perfectly within it's central area, in a realistic setting that really stands out.
Supplied in white unpainted plastic, you can decorate the stadium as you prefer, from a simple spray-paint coating, to the full works with advertising hoardings, scoreboards, and perhaps a miniature crowd! We look forward to seeing what our customers are going to do with the stadium, so please share your photos with us on Facebook or email.
The stadium is now available to order. Priced at ukp29.99 plus 7.50 p&p in the UK. Please contact us for overseas rates for this product.
Click on any image for further views